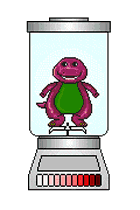 Today my school organized a science fair which is held on every year,some of my classmates volunteer to show their science project.
They even have a blood pressure test booth,other students are allowed to check their blood pressure there.I was interested to check my blood pressure and then I cued up.
When I get my turn,my friend strapped my arm tightly to make the automatic blood pressure reading machine start to detect my blood pressure.
A very weird thing happened,the machine can't detect my blood pressure,the strapped thingy keep inflates and contracts for 4 times XD ,it really hurt my arm,and the screen showed "ERROR".
I was like ok...then my classmates making fun of me by saying I'm an alien!Stupid blood pressure machine it turns normal when anyone else use it.grrr weird day