"Barry's Bicycle underwater"
Cudi: Sounds interesting,hmm Why you never change your clothes ?And the weird thing is, I can't smell anything from you although you wear the same thing every day and for a soon-to-be owner of Deaver's Bicycle you must be having a lot of money for new clothes.
Barry: These are the only ones I have,I don't have a good relationship with my dad after my mom left the family.I think he would sell the shop anyway.
Cudi: I'm very sorry to hear that,….but your dad wouldn't do that. Trust me he loves you and you're lucky because you have a dad.Okay next question is, what do you want to do before you die?
Barry: Hmm let see,travelling to places I never been to, like Idaho or Iowa maybe Europe to see the different world ,culture and people.
Cudi:If you had one wish,what could it be?
Barry: I want to change my name,from Deaver into Beaver so I can swim well like a beaver.Hahahaha
Cudi:Names can't change your skills or personality.It depends on yourself not with names.What is the most stupid thing that you ever done in your life?
Barry: I like this question, the most stupid thing that I ever done is I cycled a bicycle underwater. I was cycling underwater because of a girl that wants to break up with me. 1 night,I made my dream came true,I like to imagine that my bicycle can fly like the movie E.T when I was a boy.So I climbed this bridge with my bicycle and jumped .I hold my breath till I can't hold it no more ,I never know how to swim .If I could swim at that time,I should be enjoying myself spending the rest of my life with a girl like you.
Cudi: Haha,you think that I would fall for that story?That is a great story. You should be a writer too,I bet the ladies would be your biggest fans .Looks like I have to get back to the cabin, I only got almost 4 weeks left to finish my novel.Thanks Barry for everything I'll see you around.
Barry: It's up to you whether to believe it or not,wait before you go.I would like you to keep this button for me.The Button from my red plaid shirt that has been your biggest question.This is the only thing that I could give to you right now.
Cudi: This is getting weird,well okay I'll keep it then. A token of memories from Barry Deaver,Bye Barry take care.Talk to your dad will you?He loves you trust me.
Barry: I wish I could Cudi,I wish I could…Goodbye Cudi and whatever you do,just don't give up okay? Appreciate your life, don't waste your life like I did.So long my friend the stranger from the big apple. Farewell.
Cudi found that Barry acted strange that morning,but she thought it might be his true nature to be weird at all times.She cycled her way up the hill where her rented cabin is, then she parked Vigdis at the porch.She waited outside for a while,but suddenly it was raining heavily.From a bright sunny day to a very gloomy day in a middle of summer that supposed to be warm turned cold for a moment.Terri made chicken sandwiches for lunch,she's been typing Cudi's work all morning.
450 pages,only 50 more pages to go,just like before…writing the 50th page is going to be different this time.A new kind of ending will end the novel,unlike her previous novels that never has a perfect ending."Lies brings fake happiness,reality brings real pain" that was Cudi's favourite quote for an ending.This new novel must have another kind of ending ,a happy ending ? or just leave hanging…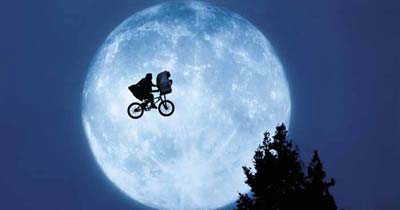 Barry's Childhood dream to fly like E.T
The 5th part is tomorrow :D 25/2/2012.
Labels: My own fiction