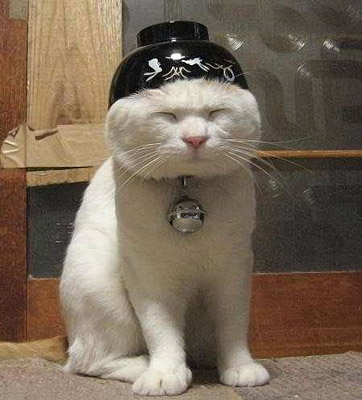 Lying on the mattress sipping a coconut shake,
The sun shows no mercy and keeps gleaming the earth phew~
A very hot day indeed....
It seems to me that I'm not the only one who's feeling sleepy,my aunt's cat showing the sign that she needs her daily afternoon nap...How lucky Cats are!
All they have to do is sleep,eat and play and also....the nature calls...they even go to heaven when they die...Lucky..
They Don't Have to
1)Study
2)Work
3)Think
4)Money
5)Power
6)Face problems or maybe they do care about their wife/hubby & kittens
Hmmm I wonder what are they talking about humans because a Meow carries a billion meanings
Meow= Hi
Meow= I love you
Meow= Fish!
Meow=Milk
Meow= I'm hungry
Meow Meow Meow Meow= you're a stingy owner
Meow Meow= you stink
Meow Meow = you're fat
Will there be a cat translator in the future so far we only have cat scan...which only scan the human brain XD.My foster mom told me that I look like a cat...after she saw my pictures on fb...ehehe it's been 3 years we didn't met! How I miss you Mak!
Cats remind me a type of Chinese Shops ornament,the waving cats that have been placed in many shops that owned by Chinese people. It says "Come in,Welcome"
Cat: Meow Meow Meow Meow Meow
Cat translator : I try to read Liselle's blog,but I can't..coz I didn't go to school.
Not all cats are lucky...like the ones that we used to see at the markets...dirty...hungry...and steal food T.T pity them..I'm lucky for being a well-fed human being :D!
Hmmm now my curiosity has the same level as cats do...Well
Curiosity Kills The Cat but It can't kill humans mwehehe.So being a human is better.Thx Allah for making me as a human being :)
Labels: Ridiculous Curiosity